---
2024 Audi Q8 e-tron for Sale Marin CA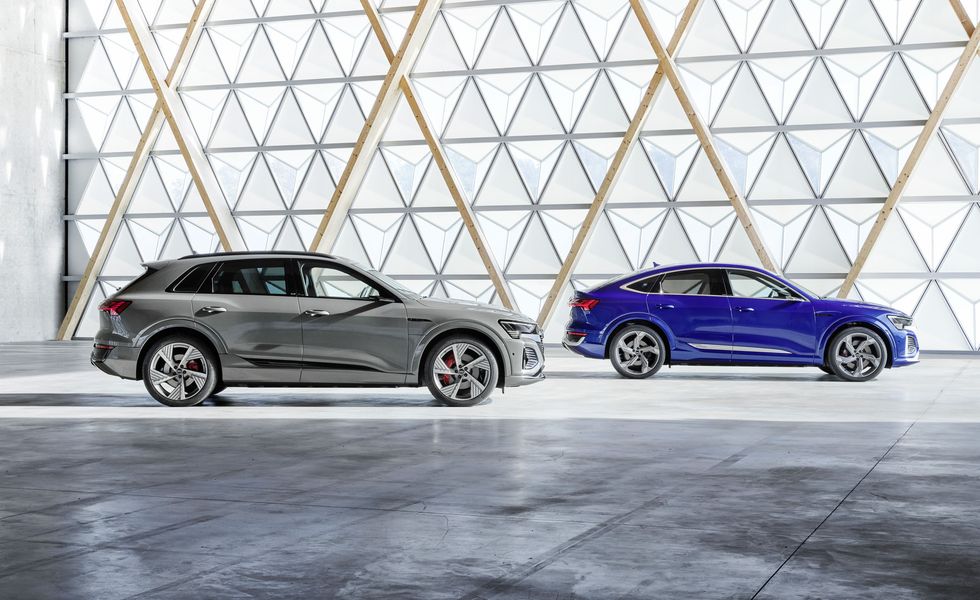 Trims:
Q8 e-tron Sportback |

S
Q8

The new 2024 Audi Q8 e-tron is the cutting-edge SUV for your cutting-edge life. For 2024, the success story of the Audi e-tron moves a step forward with the introduction of the Q8 e-tron. With ample luxury class comfort, an optimized drive concept, improved aerodynamics, and better charging performance/battery capacity, the Audi Q8 e-tron is the top-of-the-line model in Audi's electric SUV portfolio. And it has a new design including a distinctive front bumper that lends a fresh appearance. As the premier model in the electric SUV and crossover range, the 2024 Audi Q8 e-tron also boasts an expanded battery capacity - increasing the range up to 361 miles in the SUV, and up to 372 miles in the Sportback. Starting at 87,000, the new Audi Q8 e-tron features a quiet interior that is roomy for adults in both of its rows and filled with cutting-edge tech as well as plenty of luxury. Two electric motors provide all-wheel drive to the Q-8 e-tron and up to 402 hp. If you need even more power you can opt for the SQ8 e-tron, which churns out 496 horsepower.  You can also choose from two body styles: the Q8 e-tron and the sportier, fastback Q8 e-tron Sportback. Both include a battery pack that provides a usable real-world driving range that promises to be competitive with that of other luxury EV SUVs. Plus, it can be charged quickly at a public charging station if you're traveling long distances. So what are you waiting for? The future of Audi is here now and it's yours in the form of the 2024 Q8 e-tron.  
All roads lead you the new 2024 Audi Q8 e-tron for sale at Audi Marin. Located at 700 Francisco Blvd. W.San Rafael, CA 94901, our sales team knows exactly what you want as soon as you walk into our showroom. Don't wait any longer and get behind the wheel of this luxury SUV that's taking the automotive world by storm. Give us a call at 877-289-1311 to schedule a test drive.