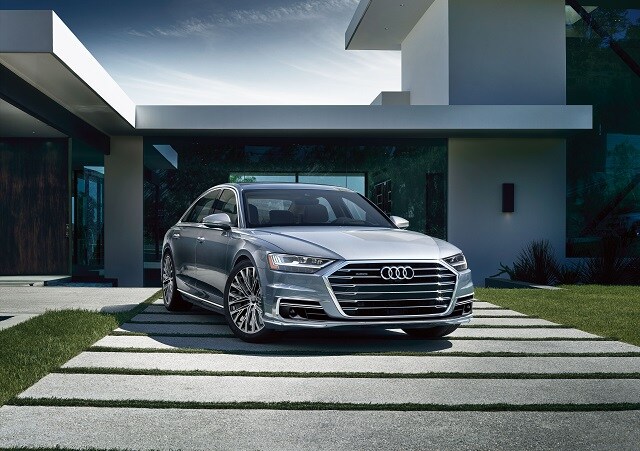 The 2019 Audi A8 is saturated in luxury from bumper-to-bumper and everything in-between. This high-tech, luxury sedan sets a new standard for executive vehicles in its class and will ensure a smooth ride, excessive cabin space and the ultimate symbol of status and success. When you want a car that will turn heads and provide the elements of space and luxury, the Audi A8 is the ideal car for you.
Understated and Refined Luxury
The 2019 Audi A8, considered Audi's flagship luxury sedan, has received quite a few notable upgrades in the 2019 model. In a full-sized sedan, the A8 has been described as bold, powerful, and boasting one of the most luxurious interiors on the market. This means a cleaner design and nicer materials. The infotainment system has been upgraded to a dual-screen system, positioned in the lower center stack, making it an ergonomically and friendly option for the driver. The incredibly comfortable seats in a cabin that is spacious enough for 4 adults to travel comfortably is also worth recognizing.
The Power and Mechanics of the Audi A8
The 20149 Audi A8 engine is a 3.0-liter turbocharged V6 that records a 335 hp with 369 lb.-ft of torque. A noteworthy 19 miles per gallon in city driving and 29 miles per gallon on the highway is also exciting. Setting the A8 apart from other luxury sedan competitors is the all-wheel-drive Audi quattro system.
Technology in the 2019 Audi A8
The newest upgrades to technology are on-demand in the 2019 Audi A8 sedan. The 2019 A8 boasts a new MMI infotainment system with two screens. The personalization options available also make driving this car fun, and comfortable. Having the ability to personalize the screen so it is uniquely and individually yours is a status symbol alone.

Rear seat drivers have access to smart remotes. This allows riders to adjust climate control, change seat positioning, and lighting. Some models allow for a rear-seat foot massager. A rear-seat connectivity package brings two detachable Android tablets and a DVD player to the backseat as well.
Schedule A Test Drive of the Audi A8
There is no better way to lose yourself in luxury than in Audi's flagship luxury sedan. To experience the Audi A8 from behind the wheel, stop by Audi Marin, located at 740 Francisco Blvd. W San Rafael, CA 94901 or call our sales team and schedule a test drive at 888-461-2040