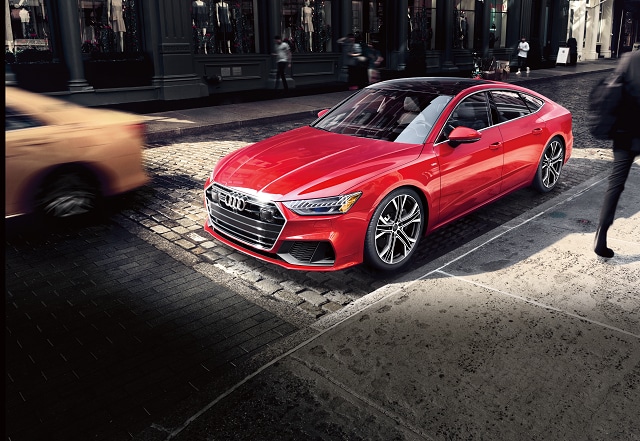 The Audi A7 has historically been revered as a combination of luxury, refinement, and character wrapped up into a four-door coupe. The 2019 Audi A7 celebrates bold, crisp exterior lines with sharp, assertive angels, highlighting the masculine tone of the car. However, the luxurious interior and expansive use of state-of-the-art technology highlight the beauty that has always been associated with the Audi brand.
Power and Performance
The 2019 Audi A7 is only offered with one engine and one transmission. However, the S7 and RS7 will bring firepower and expected performance. The 2019 A7 brings a turbocharged 3.0-liter V-6, bringing 355 horsepower and 369 lb-ft of torque. And as can be expected of Audi, the power is delivered through Audi's iconic Quattro all-wheel-drive transmission. This brings Audi A7 drivers effortless, quick driving in both wet and dry conditions.
Luxury is Woven Throughout the Audi A7
The interior of the 2019 Audi A7 has been described as "stunning" with all the legitimate luxuries included. The Audi brand always sets the standards for well-built and designed cars. However, the 2019 Audi A7 exceeds expectations for luxury. The interior of the car is adorned with leather, ambient interior lighting, heating in the steering wheel and front seats, a panoramic sunroof, and 3-zone climate control. Upgrade options include ventilation and massage functions in the front seats. The backseat passengers can enjoy charging stations and have climate control functions.
Every 2019 Audi A7 also features an infotainment system with dual touchscreens, that integrate with the dashboard and the center console. Standard content includes Apple CarPlay and Android Auto, a 4G LTE mobile hotspot and a subscription to Audi's services that allow drivers to monitor vehicle diagnostics via a smartphone app. Other desirable options include wireless charging availability and Bang & Olufsen premium sound system.
Safety Remains a Priority
Safety remains a priority for Audi. Standard features include anti-lock brakes, stability control, front-impact airbags, side-impact airbags, knee airbags, and overhead airbags. The fastback sedan offers advanced driver-assistance equipment that includes adaptive cruise control, stop-and-go technology and night vision. Collision warning and automated emergency braking is standard, while blind-spot monitoring and rear-cross traffic alerts and lane-departure warning and lane-keeping assist are available.
Schedule A Test Drive Today
The new 2019 Audi A7 exceeds the expectations of any Audi driver with the bold styling and beautiful interiors. There is no better time than now to give the A7 a test drive. When you are ready to schedule your appointment, stop by the Audi Marin showroom, located at 700 Francisco Blvd W in San Rafael CA or call our sales department at 888-461-2040.